I'm not sure whether a) YouTube shorts is the sign that Google thinks you're stupid, b) It's the way Google tries to make you stupid. Probably, it is both. So I really wanted to make YouTube shorts diseappear and made it with an Chrome extension. But first, even if it's obvious, why would I or you would want to get rid of Shorts?
Why disable YouTube Shorts?
They're distracting, they're mostly less helpful than "real" videos. The "loop" feature makes you feel stupid. The loop has no indication where the video restarted; so you feel even more stupid, after you realize you're in fact watching the same thing.
You can't skip anywhere on the video. If you skipped a word somehow, you need to wait for it to restart or refresh the page.
On desktop, the video is vertical and needless to say it's not going to be very natural to watch vertical video on a horizontal screen.
Thankfully, they can be paused so you don't get even more mad while looking at comments. Anyway it's enough stupidity and uselessness in same place. Let's get rid of it, on the desktop at least.
How to remove YouTube shorts from your sight?
I've done this with a Chrome extension called Enhancer for YouTube. It may work with other Chrome based browsers, you'll need to check it if you use another browser.
1. Install the extension from Chrome Web Store.
2. Go to extension's options (by clicking the cog icon on any Youtube video, under the video). Or just click the extension's icon on the Chrome toolbar.
3. The options page quite a few settings. You'll look for "Hide Shorts" option. To find it quickly, press Ctrl + F and type "shorts".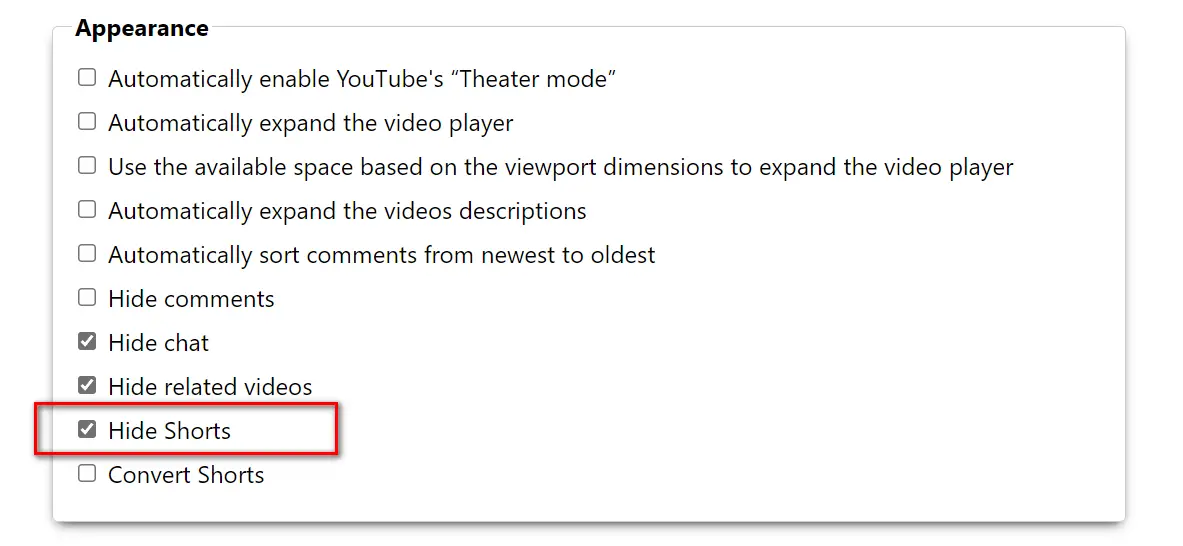 4. Check "Hide Shorts" option.
5. That's it, Shorts section shouldn't show on your main YouTube page or in Subscriptions page.
While at it, you can also hide chat, related videos, if you would like. I removed some buttons displayed by the extension under every video. You may also want to do the same, if those buttons distract you (although those buttons are hidden under a "..." button).
There are probably other ways to hide Shorts, but this is one of the easiest for me, especially if you already use this extension. In one point, it seems YouTube allowed hiding Shorts by clicking an option next to it on the homepage, but I don't see it. 
What about YouTube app on mobile?
As YouTube mobile app feels more invasive to me, I didn't even try to remove Shorts from it. I don't think it's possible but you can just use an app like NewPipe and customize the layout how you like. With NewPipe, you'll also have option to get rid of unrelated videos on your homepage (by starting app from your subscription page). The downside is you cannot like, comment on videos with NewPipe.