Data loss, which is one of the nightmares of computer users (especially those who don't backup), can still be experienced for many different reasons today. From hardware failures to accidental overwriting of the files, many factors can make your important files inaccessible.
Fortunately, some programs help you in such situations. Stellar Data Recovery is one of them that allows you to recover files that you have lost and cannot access in Windows. Here, we're going to see how good Stellar Data Recovery is, and if it really shines like its name.
Easy to Use
What you expect from a data recovery program is, of course, to recover your lost data. But first, you need to easily use that application. Stellar Data Recovery hardly hurts you at this point, because the interface is good and fluid in terms of usability.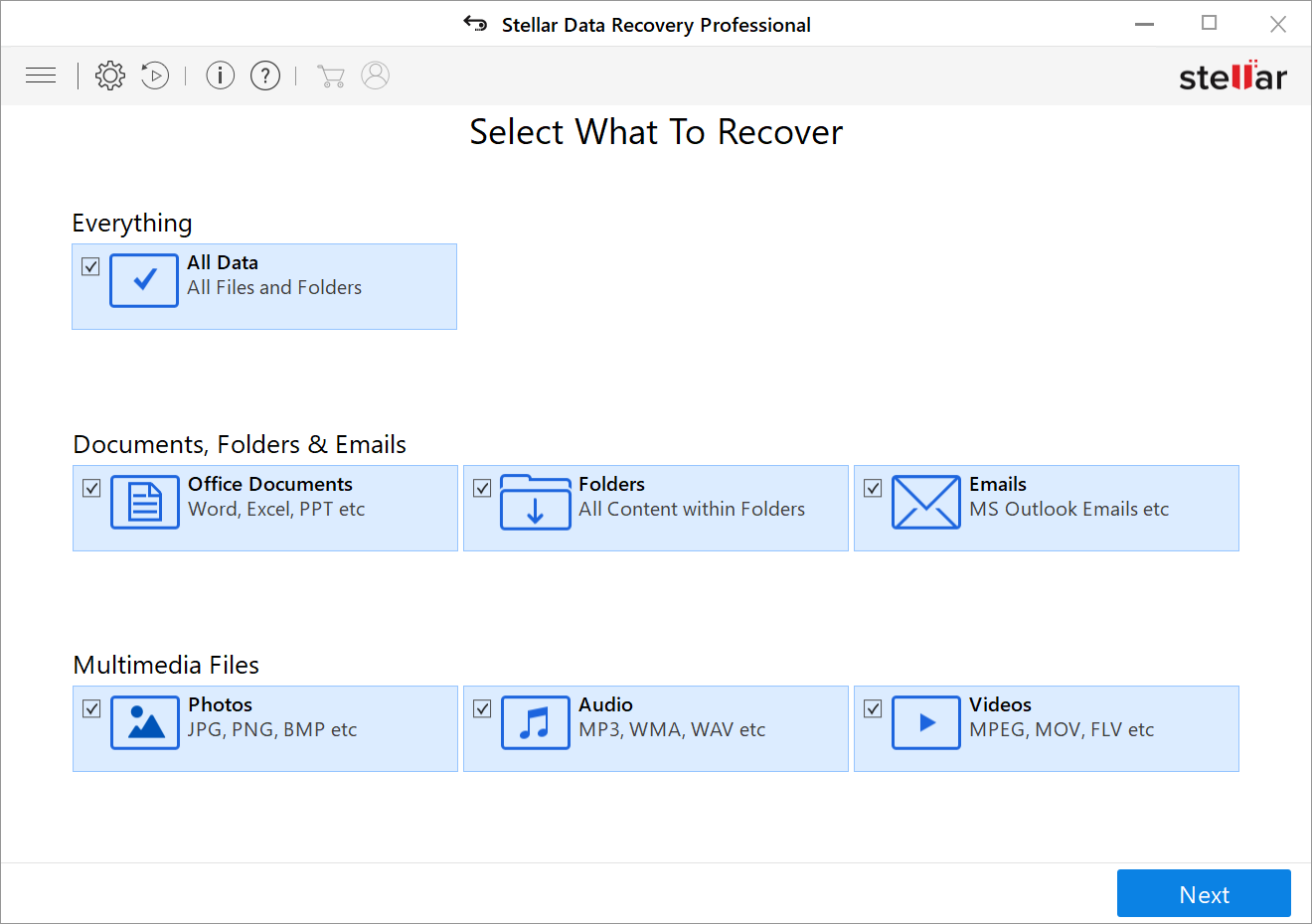 To recover a file, you go through two basic steps: Choosing the type of lost files to search, then selecting where to search. After this, you start the scan and wait a few seconds or a few minutes depending on the size and speed of your disk. When the search is complete, you're first greeted with a dialog box indicating how many files are available. You can then see your deleted files under the File Type, Tree View, or Deleted List tabs and recover them by pressing the Recover button. These three tabs make it easy to find deleted files. You can also search within the results using the search box at the top right.
What we noticed in these tabs was a sheer number of files available to recover. We weren't sure if they were all actually deleted. But Stellar was able to find and recover the files we deleted intentionally.

Stellar Data Recovery can recover files from internal hard drives and external USB drives (NTFS, FAT, FAT16, FAT32, ExFat file systems are supported), and can search in a specific folder. When it comes to file types, the software does not recover all kinds of files, however, it has a very large (more than 300) file type support. You can also include your own file types in the settings screen if you wish.
Let's get back to the file recovery screen. You can preview certain files on the recovery screen, such as images and text, and display the contents of the file before saving it to somewhere else. However, compared to some rival recovery tools, the "file condition" information is missing. For example, Recuva has a red, yellow and green colored indicator for that. While this may not affect the recovery, it means you'll only see the real result after recovery (if not in preview).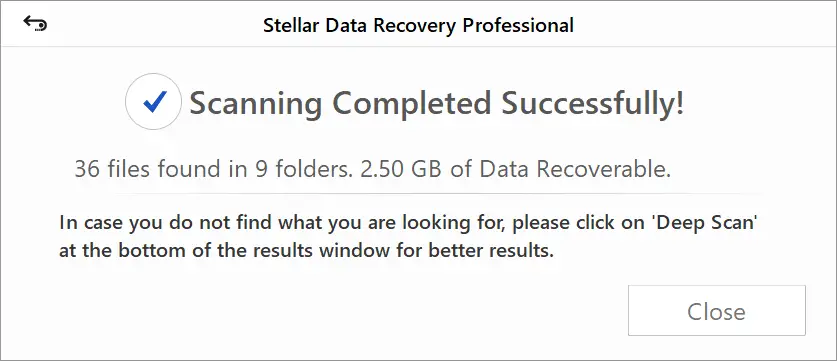 When you press the Recover button, a box asking where you want to save the file pops up. Here, select a different drive than the one from which you recovered the file, so as not to damage other deleted files. Once you've saved the file, you can try opening it again (with some hope and fear). If your Excel or Word document, or your work in Photoshop, is opened like how it was, you are lucky and you have successfully recovered the file.
What If Deleted File Is Gone
If your first attempt didn't find any traces of your file, or if your disk partition has been severely damaged, you should use the Deep Scan function. This feature scans every byte on your disk and naturally takes much longer. Typically, you are more likely to find the missing files while using this scan.

We liked to watch what was going on during the scan: the number of entries found, and how long time remained was shown on the screen. If the preview function is turned on, the previews of deleted files can also be seen when scan is ongoing. The ability to view previews, especially for those who want to recover photos is very useful.

Once the Deep Scan is complete, you can see the files in the same interface within the three tabs (File Type, Tree View, or Deleted List). Here, some files are shown in the folder structure, and some files (that lost the folder structure data) are listed by file type. As we said earlier, we're not sure if all the files that Deep Scan finds are really deleted files, but obviously, it reminded us that no files from the hard disk were actually deleted (but overwritten over time).
Scan Now, Recover Later
After a long scan, you can save the state of the program to a file and resume recovering files later. Sometimes you can also stop and resume the scan in this way. To recall where you left, you need to click Resume Recovery button on the toolbar and select the .DAT file you saved
While we don't recommend you to defer recovery, as it risks data to be overwritten, it's nice to have this functionality to save time.
Stellar Drive Monitor
Meanwhile, Stellar Data Recovery comes with the Stellar Drive Monitor, which allows you to monitor the health of your drive. This feature can show the disk status, SMART status, as well as scan your disk and clone it to another disk. The Drive Monitor displays the temperature of your hard drive in the system area when you are not using it.
Result
Your chances of file recovery rapidly decrease if you notice the loss late and perform writes to the drive. This causes your deleted files to be overwritten, and it may be impossible for software solutions to recover such files. Therefore don't expect miracles from recovery programs if you want to recover a file after a month of using that drive. In that case, you probably just need to be lucky.

Stellar Data Recovery Professional successfully recovered the files we deleted from the SSD and USB memory drives during our test, so there's no doubt about its capabilities. However, as we just mentioned, the success of the recovery depends on you. The price of Stellar may be higher than some of its competitors, but if you're going to need to recover a large number of files, such as deleted photos, audio files or text files, you will be pleased with the software thanks to its preview function and powerful scan options.
You can try Stellar Data Recovery Professional for free before deciding if it's worth the investment.
Pros
- Customizable, fast scanning
- Successful file recovery
- Recover files or folders at once

Cons
- If you do not recognize the deleted file, you may be lost in the list
Product website: stellarinfo.com/windows-data-recovery-professional.php