Strong magnetism or impacts can cause hands of the watch to be off. In my case, one of the hands were pointed at the wrong direction after battery replacement. Fortunately, hands can be adjusted easily, without a need to go to a watchmaker.
My watch is Casio Edifice ERA-500 which has no rotating button, but the process should be similar for other watches from Edifice series. After a battery replacement, I noticed "mode dial hand" that shows current mode is off and I remembered this was adjustable with buttons.
Note: These steps are documented on page E-20 under "Hand Home Position Adjustment" in the user's guide (Module No. 5446) that came with the watch.
Adjusting hand positions in Casio Edifice ERA-500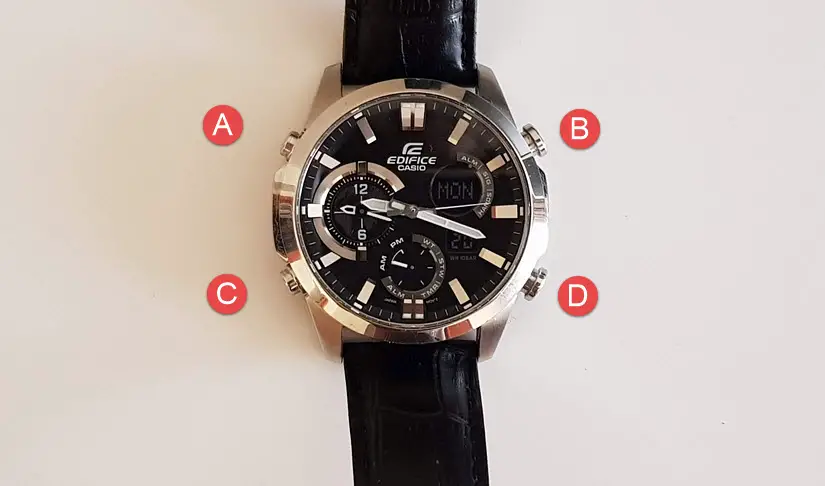 Buttons and their names 1. In the Timekeeping Mode hold down A and keep it pressed for about 5 seconds until you see H.SET appears in the upper screen.
After H.SET appears, the second hand will move to 12 o'clock. This means you're adjusting second hand's home position.
2. Use C to select the hand(s) you want to adjust. The selected hand(s) will move to 12 o'clock.
| Upper display | Lower display | Selected hand |
| --- | --- | --- |
| H.SET | 00 flashes | Second hand |
| 0:00 flashes | Not displayed | Hour and minute hands |
| SUB flashes | 1 flashes | World Time hour and minute hands |
| SUB flashes | 2 flashes | Mode dial hand |
3. If the selected hand does not move exactly to 12 o'clock, perform the next step to adjust it. Otherwise, use C to adjust another hand.
4. Use D and B to adjust the position of the currently selected hand.
If you hold one of these buttons, hands will move faster and will continue to move even after you release the button. To stop high-speed movement, press any button.
5. Press A to exit home position correction and return to regular timekeeping.
If you don't press any button for a few minutes, the watch will also return to regular timekeeping, and the changes you made will be saved.
Important note: After adjusting home position, check if the analog hands are showing the same time with the upper display. If not, perform home position adjustment again.